For todays tackle, I will be in the laundry room. You know that beautiful, organized room in which we all love. If only mine was like that. Here are some pictures of how I WISH my laundry room looked. They are not my DREAM laundry rooms, but are pretty close to it. Anything organized and clean is fine with me.

Loving all the storage space and even the color. It is so calming. Maybe then I could just relax as I do the laundry. The only thing the laundry room is missing is a sink and front LARGE front loader.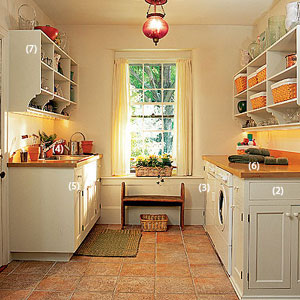 Don't you just love how there is a window that lights this laundry room up. My laundry room is in the basement so it is never so light as this. Also like the flooring and the must have sink.
Okay now onto reality. The following are not of rooms in my house, but at times (most times) very similar.
According to the blog I found this picture was on it is 12 organized piles of laundry. Do any of you do this? I am guilty of doing this all the time. However, since we've moved into our place, I have been able to just THROW it down the basement stairs so no one has to see it. Thus the reason it piles up. It goes out of sight, then out of mind.

So like the look of my laundry room. Boxes,clothes, luggage, anything and everything all over the place. This is why I need to tackle it. I did notice they like Tide, just as I do. However, I like to use the liquid detergent. What kind do you like to use? Is your detergent scented, or unscented; powder or liquid?
My Goal isn't to organize everything, just to get laundry DONE. By done I mean washed, dried, folded, and PUT AWAY. The last thing is the hardest for me. It seems that laundry just stays in the hamper sometimes until it is time to wear it again. Do you do this too, or am I the only one?
Tackle= Get 6 loads of laundy DONE
Seems kind or like a weeny tackle, but hey I have 2 sick kids and my living room is a disaster because we pretty much moved the whole play room into it so we could paint.